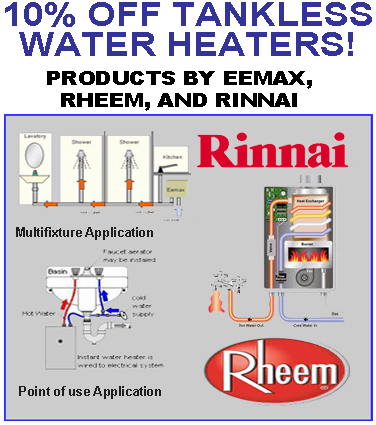 4-H Plumbing can provide your home with a great price on replacing your old hot water heater with a new, energy efficient, tankless, on-demand model. Save hundreds of dollars on your electric, water and sewage bills using these new, high efficiency EEMax and Rinnai units!

EEMax Tankless Water Heater FAQ


EEMax Energy Savings Guide


EEMax Sizing Charts
Provide & Install Pricing
Cost
Special
EEMax 9.5KW 240V Electric
(Single Bathroom / 40 AMPS)
$994
$895
EEMax 19KW 240V Electric
(Condo or Apartment / 80 AMPS)
$1193
$1073
EEMax 28.5KW 240V Electric
(2-3 Bath Home / 120 AMPS)
$1500
$1350
EEMax 38KW 240V Electric
(4+ Bath Home / 160 AMPS)
$1725
$1552
Rheem 8.4G or Rinnai 7.4G Exterior Gas
(Condo or Small Home)(No Vent)
$3206
$2885
Rheem 9.4G or Rinnai 9.4G Exterior Gas
(Large Home)(No Vent)
$3443
$3098
Special 10% discount pricing applies only to residential plumbing service, within the Greater Orlando/Clermont/Ocala areas, and during business hours 8AM-5PM Monday-Friday/Non Holidays.

Tankless water heaters may require additional services for electrical or gas connections if unavailable or undersized. Prices may vary based on type of installation and available crawl space to run water or gas lines. Price includes a water connection not to exceed 30 feet. All electrical work must be performed by others.

Natural Gas/Propane pricing is based on owner provided gas connection or propane tank. A gas connection of up to 40 feet is including with all gas installations.